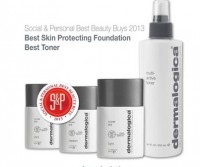 Award Winner! We're delighted to announce Dermalogica has won two awards in the Social & Personal Best Beauty Buys 2013!
Love a good masque?
Have 10 minutes to spare this weekend? Take your masques to the next level and mix Overnight Clearing Gel into Sebum Clearing Masque or Gentle Cream Exfoliant to help clear your skin of blackheads, excess oil, and congestion!
Achieve ultra clean and healthy skin on the go with the Double Cleanse regimen that begins with PreCleanse. Each biodegradable wipe melts away layers of excess sebum (oil), sunscreen, waterproof make-up, environmental pollutants and residual products that build up on skin throughout the day.
Add water to transform this hydrophilic (water-loving) formula into a milky emulsion that easily rinses debris from the skin's surface, allowing your prescribed Dermalogica Cleanser to penetrate even further for professional cleansing results.
Formulated with skin-softening Aloe and Apricot oils, conditioning Rice Bran and Vitamin E, this gentle blend can also be used around the eye area to remove waterproof mascara. Offers a deep-cleansing ideal for even the most oily skin conditions.
Formulated without artificial fragrances, colors or parabens.
Visit Redland Treatment Rooms to pick up yours now, or order online at our shop!